News
Risclarity 3x Finalist at 2023 FWR Awards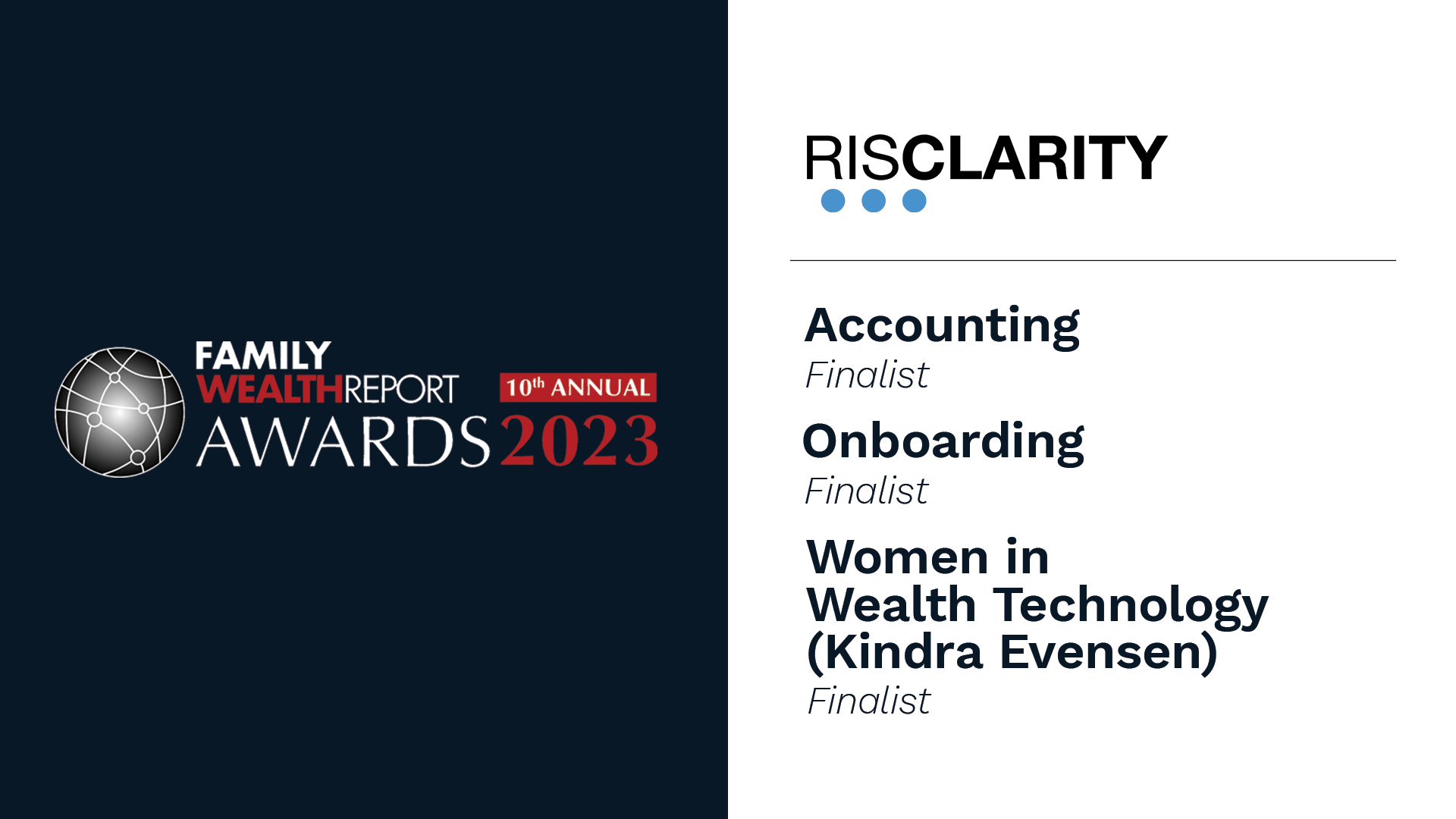 Risclarity has been selected as a finalist in three categories at the 2023 Family Wealth Report Awards:
Accounting

Onboarding

Women in Wealth Technology (Kindra Evensen)
Risclarity is honored to be recognized by the Family Wealth Report (FWR) judges for the second year in a row. FWR describes these awards as a recognition of "achievement and showcases top-class performance, innovation and distinction."
This year, Risclarity has been selected as a finalist in three categories:
Accounting Technology vendors that excel in providing an accounting solution for family offices and wealth managers
Onboarding Technology vendors providing solutions to help wealth managers enroll new clients at scale
Women in Wealth Technology (Kindra Evensen) Women in wealth technology who are an inspiration both to clients and colleagues
We are especially proud of Kindra Evensen who is the gold standard for creating the best experience for our clients. Her insight supports our team's engineers to build better technology with our clients in mind. More broadly, she recognizes changes in the industry, leading Risclarity to remain ahead of the curve. Her attention to detail and ability to walk the line between developer and user has made her an integral part of the Risclarity team as well as the family office teams she works with daily.
Kindra demonstrates what it means to be a leader, an innovator, and, at the core of it all, a kind person. Kindra is a true inspiration to all she meets. The Risclarity team is so excited for her to be recognized for her many years of commitment to understanding and caring for the needs of every person she encounters.
The 2023 FWR Awards will be presented on May 4th, in New York. Congratulations to all the other finalists!
About Risclarity
Risclarity is a financial technology company that provides a personalized technology platform for family wealth firms to digitally manage their business including data collection, display, and reporting across disparate data streams. Included in that service is the customization of the software to the operation modules and workflows of each firm. Our bespoke technology solutions include access to the technology platform, its integration via our consulting services, and operational support for the firms that use our technology. Learn more at risclarity.com.